From the Teachers.
From the PE Department.
It has been a very interesting and hardworking second half of the term for us in the P.E. department. The Foundation Stage and Key Stage 1 students have been learning about bowling in P.E, while the other Key Stages have been learning the basic skills in Tennis.
Our Junior boy's football team played against the Indian School team during the second half of the term, and it was a lovely game. Team CIS played the match with vigour and the first half of the game ended 3-0 in our favour. They continued to play with even more passion and discipline in the second half and ended the game with 4 goals in our favour and 1 goal for the Indian School.
It bumper packed weekend for the sport's department as CIS hosted the KS 3 & 4 Association of International School Educators of Nigeria (AISEN) Swimming Competition. We had over 10 schools in attendance from across Lagos state; Meadow Hall, Temple School and Atlantic Hall amongst others. The competition came to an end with Grange school coming 1st with 8 gold, 8 silver and 8 bronze medals. BIS came 2nd with 8 gold, 6 silver and 7 bronze medals. CIS came 3rd place with 7 gold, 10 silver and 7 bronze medals.
The COBIS team which comprises of the Coaches, our fantastic and supportive parents and of course the athletes have been working tirelessly to prepare for the COBIS 2017 games. We have less than three weeks until the COBIS games. Our athletes are in high spirits and have shown a great level of commitment, confidence, strength and endurance. We appeal for continued support from the school community and all our wonderful parents.
Still to come is our CIS intra-school Swimming gala which is slated to hold on the 28th of April, 2017.
Have a great Easter Holiday.
Regards,
Head Coach Payne.
From the School Library.
Dear Parents,
This term has truly been an exciting and fun filled one. From the 20th – 24th of February we celebrated our Literacy week which was themed "Simply African", where we as a school celebrated the literary arts and works of the Motherland.
We had a variety of African Authors, such as Pa Jimi Solanke – he brought a nostalgic emotion to the week as parents and staff were able to go back in time to the days of their youth and share with the students the 'Tales by Moonlight experience'. We also had Professor Yerima – a former Director General of the National Theatre and Troupe of Nigeria, amongst many other achievements. He came with his wonderfully written books such as The Trials of Oba Ovonramwen, The Sisters, Yemoja, Idemili, Attahiru, Little Drops, Akuabata, Ajagunmale, and Igatibi. He gave in depth workshops to students, staff and parents. Noma Sodipo – popularly known as Auntie Noma , she is a trained optometrist, who diverted into working with children and has a book called – A Pre-School Alphabet Book…A Treasury of African Names. She is one of the principle owners of The Lighthouse Educational Services which comprises a fully equipped studio for children's TV programming. Her workshop with the Foundation Stage team was met with delight by both the students and staff. sosa Daniel-Aniko, a homemaker, who writes for pleasure and is delighted and awed that her works are loved enough to be sold. She had a storytime session with our foundation students who had a fantastic time with her. Her popular books are – 'Fantastic Fedjiro, Veri Meri and Dear Eliza'. Stephen Davies, who came from the UK and held interactive workshops with students across the school, staff and parents. The theme/plot of many of his books is based on African settings.  His popular books are – 'Hacking Timbutu, Don't Spill the Milk, Survivor Titanic and Sophie and the Abino Camel'. Stephen Davies was based in Burkina Faso since 2001 but has just recently returned to the U.K.
The students during literacy week also had chance to show their command of the English language with spelling bees, declamation contest and debates.  The annual dress-up parade represented the various parts of Africa and the African story characters. The book fair stand had a wide range of books from all over the world and this was visited by all members of the the school community. The published anthology of students' writing for 2017 was aired on Channels TV – please follow this link – https://www.youtube.com/watch?v=_nF81it7SDE. See our website for the various feedbacks given about the week – http://www.cislagos.org. Also, see the feedback from Stephen Davies below.
Feedback from a visiting author.
I say a big thank you to all the staff and students at CIS for your welcome; especially to Mrs Plumptre and Miss Toyin, for their kindness. The Literacy Week buzz was pleasantly dizzying and I felt honoured to be a part of it.
The highlights? Gate crashing one of Jimi Solanke's storytelling sessions, sitting at his feet in awe of his charisma and his effortless mixing of story and song. Chatting in the library with Ayodele Olofintuade, whose book Eno's Story we are now enjoying at home. I loved exchanging teaching tips with a dozen dedicated and inspirational teachers. Best of all my experiences was working with group after group of prodigious young storytellers, watching them create a smorgasbord of fabulous characters and story-concepts.
I had the chance to meet with a group of parents, some of whom seemed concerned that their children were not reading enough. Such worries are natural but counterproductive. We encouraged each other to take an interest in the books our children are reading, without forcing or nagging them to read. We talked about the joy of sharing and recommending books within a family, and the importance of modelling reading ourselves. When a young person grows up in a house where books are read and treasured, it's hard not to become an avid reader. We need to relax, friends, and allow books and stories to be a source of pleasure, not stress. After all, that is what Literacy Week is about: a time to celebrate the distinctively human pleasure of storytelling in all its forms.
On the way back to the airport, I read the 2017 anthology Simply African from cover to cover; such a diverse and exuberant collection of writing. Ten years hence, I shall not be at all surprised to see Eduvie Oseragbaje, Serene Soyanwo and other CIS alumni on the spines of books at my local bookshop.
Stephen Davies.
Children's author.
For the past two years, CIS students from Years 1 – 10 have written, poems, short stories and fables, they have shown that it is never too young to start anything in life. Our book – 'An Anthology of Stories and Poems, Written by Students' is a true example of the the dynamic creativity and excellence of our students. This books has been printed and published with our high standard in mind and is available for sale in the School Library. I encourage you to stop by and get you very own copy.
Finally, I must use this opportunity to thank all our parents who supported us in our various request to make the week a success, such as the ankara drive, which we used to decorate the school environment, highlighting the beauty of Africa. Those who supported the annual publications with adverts and our sponsors such as Mr. and Mrs. Awobokun for their financial support, Mrs Olohi Osakioduwa for her beautiful African setting decor of the Early Years Library; Studio 24 for their Photo coverage and Mr. & Mrs. Avuru for their financial support. Enjoy the various images of the week below.
Regards,
Morenikeji Rhodes Plumptre (Mrs.)
Head of Library Services.
From Year 3.
Welcome to Greece.
A very big thank you to Mrs Oikonomou, one of our parent who took a keen interest and organised some activities for the Greek day.
The children in Years 3A, 3B, 3C and 3D turned up in beautiful Grecian attires. It was a sight to behold, whites, purple and gold all on display. We took our learning to another level.
I guess the most interesting part of our day was when we Skyped with an airline pilot who was in Greece and the children interacted with him asking a lot of questions about the country and the different Greek myths and legends we had learnt about.
There was an assembly based on the Greek city states by Year 3A. Parents answered questions on the philosophers of that time. We even debated the on why girls should not go to school and participate in sports based on the culture and beliefs of Athenians. We all decided to move to Sparta.
We had a mini-olympiad and ate a feast of Greek dishes after watching a short film on how flying was invented.
Now let's find out about the Romans!
Regards,
Okieimen, Onyia, Iyiola and Oluborode.
From the Computer Studies Department.
Upper Key Stage 2 (Years 5 & 6) have been studying and working on media production (audio). They have learnt how to use beat creation software to create great beats. Using Audacity has been an interesting experience as students have been able to  record their group song (audio) and confidently Edit, Format, Trim, Mix, Silence, add various effects and save their audio files in a format usable in any audio player and in a format usable only in audacity.
The group projects have been successful and the students are motivated to create their very own music project from beat creation to saving and writing on CDs.
Year 7 Computer Studies Video clip.
Year 7 Computer Studies Video.
The Year 8 students have been working hard studying computer networks. They have demonstrated a clear understanding of the technology behind how devices communicate between each other. Their visit to the school's server room has exposed them to the real time experience and physical identification of all the devices involved in computer network and network security like the file server, active directory server, internet server, routers, modems, power backup system and cabling. They have also extended their learning in this area to DOS Disk Operating System command like IPCONFIG, PING and the importance of IP addresses and its components.

Year 9 Computer Studies Video Clip.
Year 9 Computer Studies Video.
Year 10 ICT students have been working on Database creation, formatting, editing and manipulation including designing and allocation/identification of primary key field, creating queries, forms, reports and relationships between up to three tables and creating queries and reports based on the relationship. It's been a bit challenging but interesting because the students have been able to do almost all these objectives as at the last lesson.
The current unit in Year 10 BTEC IT aims to broaden the learner's knowledge on the characteristics that are valued by employers and the common job role undertaken by people working in the IT industry. The Working in the IT Industry unit affords learners the General skills required in the IT industry which includes: Interpersonal skills, Planning skills. Organisational skills, Good time management skills, Team working, Numeracy skills, Creativity and Problem solving skill. Learners are really enjoying this unit as these skills are required for their work experience.
Year 10 BTEC Creative Media Production students are currently working on the Communication techniques for Creative Media Production (Unit 2). This unit aims to develop learners' communication skills in media production context so that they are able to communicate using the correct language and terminology. Both oral and written communications are covered, as well as formal and informal communication. This is a 5-credit mandatory unit and can be taught in 30 guided learning hours, with learners expected to complete around 20 hours' individual learning.
It's been a very exciting, thrilling and mind boggling IT experience for our pupils in KS1 and KS2.
Not forgetting our budding technology gurus in the Foundation Stage who have evolved over the last two terms in their computer usage, appreciation and technology awareness.
Year 11 BTEC Video Clip.
Year 11 BTEC Video.
Foundation Stage pupils in the Reception Year have evolved from finger touching monitors to making good use of their mouse and can independently coordinate their use of a mouse to load, exit and explore learning software during computer studies lessons. Students in the Foundation Stage have learnt through this term on ways to use their  –
Mouse
Keyboard
Identify and explain use of different parts of the computer
Can tell the use of the internet.
Keystage 1 pupils have developed more on their computer usage skills and can make use of the internet purposefully and also explain the advantages and disadvantages of the internet. Pupils did a whole lot of fun things during the lessons such as –
Research
Copy and Paste
Presentation – sound, video and pictures.
Editing
Format
Pupils learnt how to edit and present all researched work in a proper way following rules not to claim other author's work as theirs, learning what plagiarism and copyright is all about.
Pupils also learnt what it means to research and edit information properly and present as a document for their "Favourite Animal Project".
Keystage 2 pupils have used the whole of the second term to learn about "DATABASE" and "INTERNET SAFETY".
What is a database?
What do we use database for?
What's the importance of a database?
Example of database software etc.
We learnt how to use a simple database application like the Microsoft Excel application on MS Office 2013 to learn how we can use a spreadsheet to insert data from different sources to build a database that can be used to solve problems and proffer long term solutions to different scenarios that may arise and also help keep records that we can make use of at any point in time that its required.
Using the Ms Excel 2013, pupils learnt different skills using the spreadsheet such as :
Cells
Insert
Margin
Fit, Alignment etc.
Addition
Multiplication
Auto Complete etc.
Pupils in Lower Keystage 2 can independently use an Ms Excel software to create a simple database on favourite fruits in a class using all the necessary skills learnt to –
Sort – By Numbers, By Alphabetical Order, From the least to the most e.t.c.
Addition – Calculate the total of sales in a record book keeping for a supermarket, adding and subtracting from sales made and stock left after daily or monthly sales.
Multiplication – Pupils can independently multiply using the basic functions on the excel software to calculate a given record sales of a store to find the total of stock in a warehouse and quantity sold to the store.
Internet Safety was also a very important part of the lesson this term educating students on how to make use of internet resources appropriately. Pupils have been told how important it is for adults to be aware of what goes on when using the internet. Guidelines and rules have been shared with students in class so they are aware of the importance of why they must not share private information with anyone or strangers online.
Pupils went further by researching, editing and presenting a powerpoint presentation on Internet Safety as a way of checking on their learning skills and also as a way of making them be more aware of the right use of the internet.
Regards,
Mr. Odeleye, Mr. Sharafa and Mr. Abimbola Arogundade.
From the Mathematics Department.
Mathematics has been fun and interesting this month of March. Lots of activities like games, puzzles, quizzes and outdoor learning have been part of our learning. The students enjoy the variety of activities used in their learning.
They were able to make connections with what they have been learning in the classroom with the real life application of mathematics.
Year 7 have been learning and studying linear equations. They learnt interesting aspects of linear equations such as working out how steep a straight line is (the gradient), how to calculate the gradient from a given equation and how to find it from a graph. They were able to relate this concept to real life applications like travel graphs and conversion graphs, using the conversion rate given and taking readings from a graph, to convert from one currency to another.
Year 9 students have started applying the quadratic formula in solving quadratic equations. They have developed great skills in the use of the scientific calculator when using the formula. They are fully aware that when squaring a negative number, it must be put in brackets (this is a common mistake made by students).

The Year 11 students are on top of their revision sessions for their final IGCSE mathematics examination in May/June this year. They are all working through every page of their past examination paper packs with extreme concentration. Team learning, collaborative learning and reflective learning are practised in each of their lessons. At this point, I can say they are fully prepared to face and write the final exam without stress.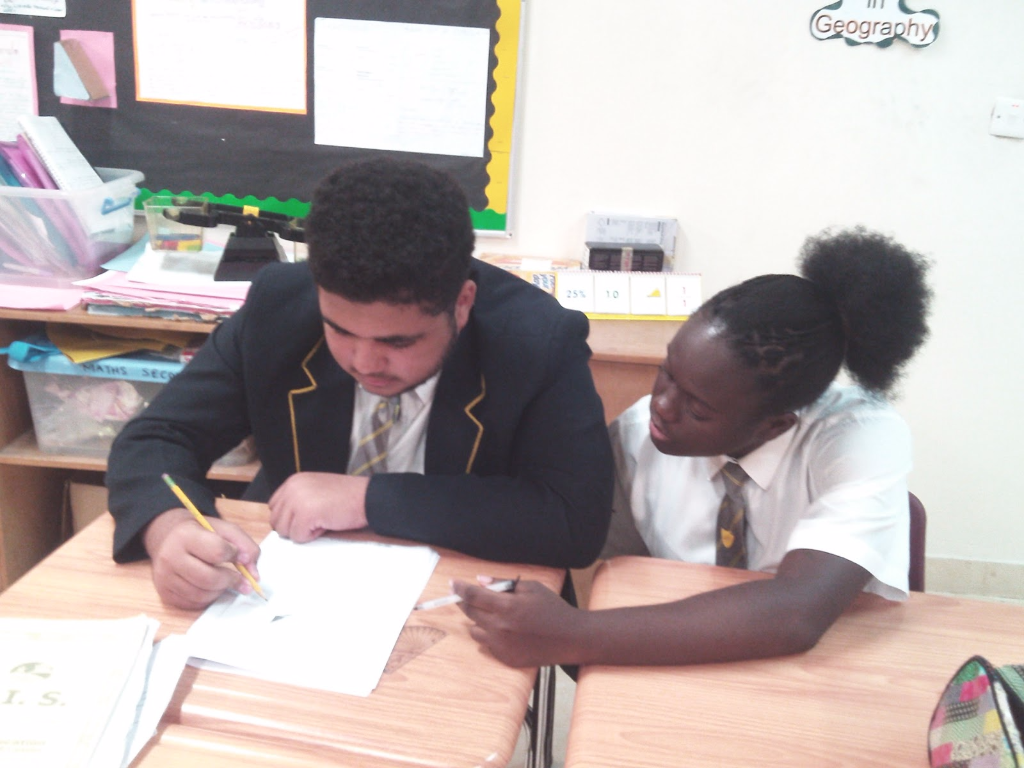 One benefit of mathematical competitions is that it provides a challenge to teachers and students. Secondly, competition stimulates student curiosity and activity.  Thirdly, it provides opportunities to recognize problem solvers.  
Competitions also provide opportunities for students to explore non-routine problems, types of
problems not usually encountered as a part of the regular mathematics curriculum.  This is why we have been involved in this year's South African Mathematics Olympiad which is made up of three rounds and at the moment we are proud of fifteen Years 7 and 8 students who have qualified for the second round coming up in May, 2017. Furthermore, competition provides opportunities for many students to participate actively. Competitions encourage students to explore alternative solution to problems and promote teamwork and enthusiasm. Mathematics competitions are useful for strengthening the education of gifted students. Students with disabilities are not deprived of opportunities for mathematics competitions. However, the ultimate classroom needs to create both cooperative and competitive learning environment.

Regards,
Mrs Anozia, Mr. Livingstone, Mr. Anumokwu, Mr. Emmanuel, Mr. Peter.
From the Design and Technology Department.
Design and Technology is a mixture of academic studies followed by hands on practical making skills using the full range of hand tools and powers tools that we have available in the school workshop.
Please encourage your child to think about being safe in the workshop when using the tools and equipment on offer. Encouraging your child to think, plan, before acting, about being self-aware not just in the school environment but whilst travelling outside as well.
The Design and Technology department is also proud to assist in the school's latest drama production by constructing a variety of sets for the play. We have been eliciting the help of our students so that they can learn more designing and practical skills and see their end results on stage.
Regards,
Mr. French & Mr. Benjamin.
From Junior School French.
The last few weeks have been very exciting in the French room with lots of role play used to reinforce our learning. The children have also had opportunities to display their other skills using cross curricular activities. This has helped to retain their knowledge of vocabulary learnt in the class.
Year 1 learnt the history of the "Avignon Bridge" and the  traditional nursery rhyme while singing and dancing along. Reports have it that the "Sur le pont d'Avignon" song now permeates their homes with almost everyone in the family singing along. They have also been able to learn some weather conditions in French using the pairing picture and name tags.
Year 2 have been learning transportation and how to get to school.They have enjoyed using the online games to remember some of these new words. They are still learning to use the verb to go and the prepositions used with the various types of transport. They made Mothers' Day cards ahead of the celebration on the 26th of march. We hope you liked them mums!
Year 3 and 4 have been re-assessing their knowledge of basic questions in French using the role plays as a guide. Learning their numbers with songs from 50 to 100 has also been helpful in recalling them.They learnt how Easter is celebrated in France with "La legende des cloches de paques.  "The Easter bell legend which some of them found a bit weird! All that disappeared with the art and craft Easter card making they had to give as a gift for Easter.
Year 5 and 6 have been learning how to use expressions of quantity when buying items at the market. The role play market scene gave everyone the opportunity to speak and learn to calculate in French using Euros. They quite enjoyed the activity which also got them winning some healthy apples and bananas for answering questions in French!
Je vous souhaite.  Joyeuse pâques.  I wish you all a Happy Easter!
Merci mille fois.
Mlle.Feigne
From the Music Department.
(Mr Seun, Mrs Oresanya & Mr Korede).
Dear Parents,
We have had so much fun this half-term, so we have decided to let our pictures and videos speak for us.